Planet Waves HDMI cables are available in the "Perfect Length." They proudly make one grade of HDMI; always the highest grade & quality. The current cable is a High Speed HDMI capable of transmitting signals to support HDMI 1.4 spec including ethernet, 3D, and 4K. It includes full 1080p support up to 45ft. All HDMI cables are precision made under strict manufacturing tolerances; 100% shielded with all gold plated connectors and over molded strain relief; and CM & CL2 (UL) rated for in-wall installations.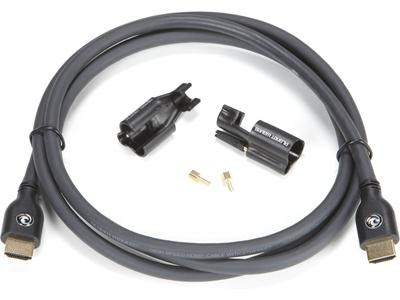 • High-Definition single-cable solution for all home theater component connections--HDTV, DVD, and Home Theater receivers and display devices
• Advanced conductor construction maximizes 8 channels of digital audio signals and pure digital video signal
• Available in 1, 2, 3, 4, 5, 6, 7, 8,10, 15, 20, 25, 30, 35, 40, and 45 ft lengths!
The Planet Waves HDMI cables also come with HDMILok's so the cables can be "locked" onto most source equipment and to Planet Waves' exclusive Port Saver HDMI adaptors!
Read more »